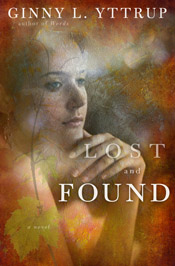 About the Book: (from B&H Publishing)
It appears Jenna Bouvier is losing everything: beauty, family, and wealth. When her controlling and emotionally abusive mother-in-law accuses Jenna of an affair with her spiritual director and threatens to expose them, Jenna also risks losing her reputation as a woman of faith. Will she capitulate to her mother-in-law's wishes again or fight for what she holds dear? As Jenna loses her life, will she find it?
Andee Bell has found exactly what she wanted: fame, fortune, and respect. There's also a special man in her life—Jenna's brother. Despite her success, a secret quells Andee's contentment. As memories torment, will she find peace in a relationship with God, or will she sabotage herself while also taking down the only person she cares about? As Andee finds her life, will she lose it?
Moving between San Francisco and the Napa Valley, Jenna and Andee form an unlikely relationship that leads them to a crossroad. They can follow familiar inclinations, or risk it all and walk in faith.
My Thoughts:
"
Tonight, I stand back from my life – which means I will walk away from my life.
I will walk into the unknown.
Down a dark and winding path. But I will not walk alone.
He will illuminate the path ahead, one step at a time
."
As I read Ginny Yttrup's words – words passing through the heart and mind of one of her main characters – I thought I was reading the words that have passed through my own heart and mind many times in the past few months. I've had to make the same excruciating choice Jenna faces in her own life crisis.
Her story is very different from my own – as it is fictional – but my heart has echoed many many of her thoughts and struggles.
So many, in fact, that I wanted to know who'd been looking over my shoulder!
Seriously, all personal angst aside,
Lost and Found
is the most tender, profound, beautiful book I've ever had the privilege to read!
Ginny is a master wordsmith, and she develops her characters into people you recognize in every stage of you life – in your own life perhaps!
I loved the believability of all of the characters and the way Ginny wove their stories together one viewpoint at a time.
That is not an easy way to write – and she did it beautifully and seamlessly.
Her "voice" was as convincing as Matthew as it was Brigette or Jenna! I loved every one! (well, not Brigette!)
Lost and Found
has made a profound impact on my life, and I am certain I will pour through its pages time and time again.
If you are looking for a story that delves deeply into the human soul and plunges you into the depths of grace and love, you MUST read this book!!
I know I will never, ever forget it!
Ginny Yttrup
is an author, freelance writer, and writing coach. She has two grown sons and lives near Sacramento, California. Words is her first novel.
Discover more about this fabulous author on her
website
!!