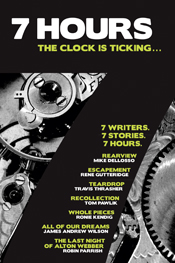 About the Book: (from Tyndale Publishing)
Death comes for everyone. But what if you were given seven more hours? Would you go back and relive a previous time in your life? Or would you live those seven more hours, starting now?
In this collection of seven full-length novellas, seven writers come together to tackle the questions of life, death, and time as we know it. Each author has taken the same concept, featuring a mysterious central character, and spun their own story.
Stories include:
All of Our Dreams
,
Whole Pieces
,
Teardrop
,
Escapement
,
Recollection
,
Rear View
, and
The Last Night of Alton Webber
.
7 Stories. 7 Writers.
7 Hours.
CHECK OUT THE
WEBSITE
TO LEARN MORE!!
My Thoughts: (at least on the first story!)
"
He'd spent too much time staring in the rearview mirror of his life and beating himself up over what he found there
."
(Daniel
-
Rearview
by Mike Dellosso)
Rearview
is the first of seven novellas in Tyndale's 7 hours Omnibus.
Expect the unexpected. Expect your life perspective to be challenged and changed. Prepare your heart to receive a blessing.
This particular story is special to me, because I've followed the author through his battle with colon cancer. I've heard his heart cry out to God. I've witnessed God's answer.
Rearview
is a beautiful expression of time and the consequences of choices – both intentional and unintentional.
Life is too precious to waste. Live it with purpose.
This book contains a fabulous collection of stories! Don't hesitate to add this to your reading collection today!