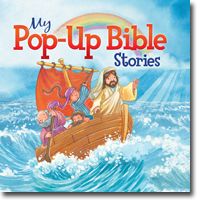 About the Book: (from the publisher)
With a pop-up scene on every page, children will cherish this selection of favorite stories from the Old and New Testaments. From the moment Baby Moses is found floating in a basket among the bulrushes to Jesus' stilling of the storm, children will be captivated by Daniel Howarth's remarkable illustrations as each story pops off the page.
Stories include: Daniel, Baby Moses, Lost Sheep, Jairus's Daughter, and Stilling the Storm.
My Thoughts:
What a perfect way to introduce young children to Bible stories! I've always loved pop-up books, and this one is beautiful! Children will have a visual feast as they learn basic Bible stories. The author has included the Scripture reference for each of the stories, so the care-givers can go more in-depth with their story time time and time again.

And I daresay that there will be adults who are first generation Christians that will be touched by the truths of Scripture as they teach the children entrusted to their care! What a blessing!


About the Author:
Juliet David has written many children's stories and Bible activity books. Her other interests include painting, music, and travel to Israel and other Bible lands. This experienced author lives in London with her family.
Illustrated by Daniel Howarth