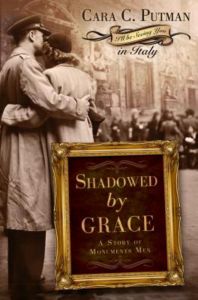 About the Book:
Shadowed by Grace
is a dramatic story inspired by the Monuments Men of World War II by acclaimed author Cara C. Putman. Desperate to save her dying mother, Rachel accepts her newspaper's assignment to travel to Italy to capture images dangerously close to the front lines of WWII. Her real motive – to find the father she never knew -- an artist she hopes can offer the comfort and support both she and her mother need to survive. It's an unlikely situation for love and faith to flourish, but soon Rachel not only finds herself, but also her long-lost earthly father, and ultimately, the man her Heavenly father created to cherish and provide for her.
My Thoughts:
"Her world was a collection of somedays and maybes." (Rachel Justice)
Truly, Rachel Justice had been waiting all of her life to find significance, love and value. As an only child to a single parent in the 1940's, it seemed that her opportunity would never come, especially once her mother was diagnosed with tuberculosis. Using her greatest talent, her photography skills, Rachel sets out on a life-changing journey to document the Second World War. She went to Europe for two reasons: to provide money for her mother's care and to seek out a father she had never known.
Scott Lindstrom's assignment in the War was almost as elusive…to find and protect the European culture that the Nazzi's were determined to obliterate from the planet. "We are defined by what we love and respect," Scott say to Rachel as he tries to define his mission. Lieutenant Scott Lindstrom is part of an elite group of soldiers referred to in history as Monuments Men. His sole duty is to find and protect the buildings, art, bridges and other fine art that defines European culture. Scott's additional duty becomes escorting and protecting Rachel as she photographs the war.
To be sure, this is one of the most original and intriguing story lines I've come across lately, and Cara Putman does an excellent job of portraying the life of the soldier during WW II. Life isn't easy, and the brutality and danger encountered comes from without and within as these two characters make their way across Europe. What they discover changes the course of their lives for all time. I would encourage everyone who enjoys historical romance to pick up a copy of Shadowed By Grace today! You will enjoy the discoveries, both emotional and spiritual, that come forth from this very well-written story!
About the Author:
Cara Putman
is an award-winning author with seven World War II homefront books in print. Her minor in history combined with her love of World War II history and the generation that fought then as heroes compel her to take the steps to get the historical details and research right. As a result, her readers have come to expect stories that sweep them back in time while illustrating a facet of the war they didn't know existed. While her prior books have focused on homefront stories, this series will broaden to reach the European theater, without the battlefield scenes one would expect.