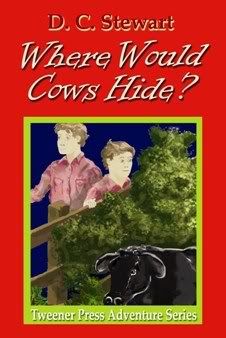 M
Y
REVIEW
:
What happens when identical 11-year-old twins spend two weeks on their grand-parents'cattle farm? Oh, the usual lizard hunts, pasture exploration and creek bed adventures would make for a nice story. However, D.C. Ste wart adds a bit of a twist, bec ause when Brad and Charlie arrive at the farm, they find out that their Grandpa is dealing with the mysterious disappearance of his cows! Can the boys help? Well, their younger sister Zoey might prove to be even more helpful…if the boys will just listen to her!
D.C. Stewart has written a delightful adventure for the young readers in your life. She incorporates the realistic agitation that exists between siblings, and she even captures the parents' and grandparents' agitation when the children disobey or ague over something trivial. Yet the boys persist in their clue-gathering adventure, because they have figured out who the rustlers are! They just have to figure out a way to tell their grandparents before their parents return to take them home!
This book would make a great Summer read for the children in your life, and it could also be used as a read aloud story for a long trip. If the young readers in your life are stirred to adventure by the great outdoors, then you want to check this story out! You can purchase a copy here today!

MEET THE AUTHOR:
D.
C. Stewart
grew up in a small town in Oklahoma, and spent most of her childhood getting into trouble with her younger brother on their ranch. She began writing short stories in high school, and won a writing competition at a nearby college at age 17. After graduating, she attended Northwestern Oklahoma State University and earned a degree in History, and also met her husband, Scott. She worked for a church in Maumelle, Arkansas as the Communications Coordinator for five years. After moving back to Oklahoma, she chose to stay home with their four year old twin boys, and six month old baby girl, and to pursue her dream of being a full-time writer. The Stewart's live in Oklahoma City, Oklahoma.
Where Would Cows Hide?
is her first novel.
WIN YOUR OWN COPY!

Author D.C. Stewart is giving you a chance to win a copy of WHERE WOULD COWS HIDE?, and more! Here's how to enter for a copy of WWCH and to enter the grand prize drawing:
1) leave a comment on this blog post (or on any of the blogs participating in the blog tour);
2) email the contest coordinator at
contest@novelinspirations.com
with subject line "WWCH ENTRY";
3) join D.C. Stewart's ezine list by either sending a blank email to:
dcstewart_ezine-subscribe@yahoogroups.com
or visiting
http://groups.yahoo.com/group/dcstewart_ezine/
and subscribing through the yahoogroups page.
Book winners and the GRAND PRIZE WINNER will be drawn on or before May 31st, 2008 and will be notified by email. Please make sure you leave a valid email address on applicable blog posts.