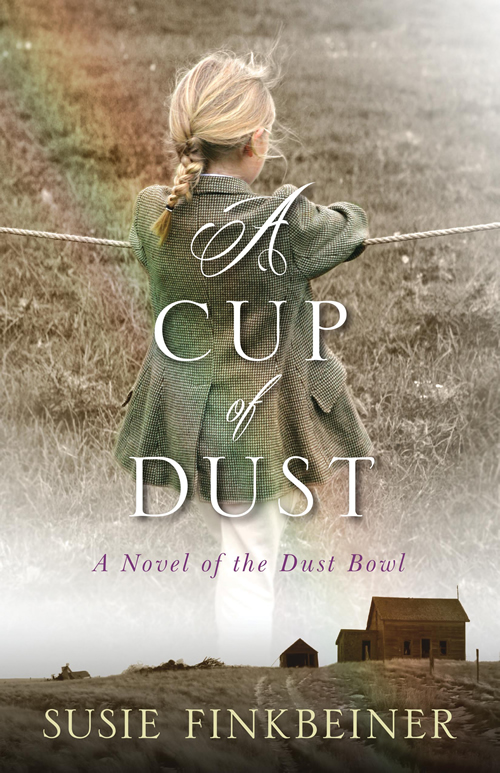 About the Book:
Where you come from isn't who you are
Ten-year-old Pearl Spence is a daydreamer, playing make-believe to escape life in Oklahoma's Dust Bowl in 1935. The Spences have their share of misfortune, but as the sheriff's family, they've got more than most in this dry, desolate place. They're who the town turns to when there's a crisis or a need--and during these desperate times, there are plenty of both, even if half the town stands empty as people have packed up and moved on.
Pearl is proud of her loving, strong family, though she often wearies of tracking down her mentally impaired older sister or wrestling with her grandmother's unshakable belief in a God who Pearl just isn't sure she likes.
Then a mysterious man bent on revenge tramps into her town of Red River. Eddie is dangerous and he seems fixated on Pearl. When he reveals why he's really there and shares a shocking secret involving the whole town, dust won't be the only thing darkening Pearl's world.
While the tone is suspenseful and often poignant, the subtle humor of Pearl's voice keeps
A Cup of Dust
from becoming heavy-handed. Finkbeiner deftly paints a story of a family unit coming together despite fractures of distress threatening to pull them apart.
My Thoughts:
"Every storm has a beginning and every storm's got and end. They never last forever." (p. 121)
The words from Meemaw's lips could not have been more prophetic. Pearl Spence would live through far more than the Dust Bowl within the pages of Susie Finkbeiner's novel, A Cup of Dust. Every page of this novel bears the grit of the dust that fills the air in Red River, Oklahoma. The author's writing poignantly weaves every detail of Pearl's family into a beautiful and painful picture of trial that is faced with the strength of love.
The love that holds the Spence family together is palpable and real. Their reality is made boldly visible by the trials that they have already overcome before they even bear a hint of the Dust Bowl. Be that as it may, the trials the lay ahead within the Dust Bowl are particularly brutal. The reader gets a front row seat when sacrificial love faces off with a twisted, evil version of perceived justice. It is a battle that rages through the Spence family as violently as any earthly storm.
In the end, the sense of strength and perseverance that is left in your heart and mind is unforgettable. You will long remember the Spence family – especially Pearl – and the love which endures when everything around them falls apart. This is truly a special book, and one you won't want to miss!!
About the Author:
Susie Finkbeiner is a stay-at-home mom, speaker, and author from West Michigan. Her previous books include
Paint Chips
(2013) and
My Mother's Chamomile
(2014). She has served as fiction editor and regular contributor to the Burnside Writers Guild and
Unbound
magazine. Finkbeiner is an avid blogger (see www.susiefinkbeiner.com), is on the planning committee of the Breathe Christian Writers Conference, and has presented or led groups of other writers at several conferences.