This week, the
Christian Fiction Blog Alliance
is introducing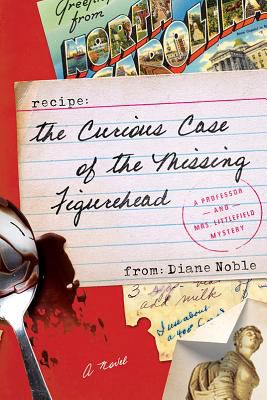 About the Book:
She's Passionate about Solving the Case ... with the Town's Life-Long Bachelor El Littllefield runs The Butler Did It catering. It's the perfect cover for her to solve "who-done-its" (nothing too dangerous, please!) in this small university town nestled in the Blue Ridge Mountains. While catering her most important event yet - a fancy retirement dinner for Dr. Max Haverhill, life-long bachelor and history dean - countless guests fall ill, a 200 year-old relic is stolen, and her best friend vanishes. All in the first hour. As El and Max race to solve the mystery - they discover there's more to their relationship than simply solving the case. Welcome to Eden's Bridge - the perfect small town setting for big intrigue, romance, and humor.
My Thoughts:
"A wise person once told me that there are some things in life you can't go around, you can't go over, you can't go under. You have to go through." (p.371)
El Littlefield most definitely has to go through a LOT in Diane Noble latest addition to her offerings in the mystery genre – The Case of the Missing Figurehead! As a matter of fact, this is the beginning of a new series entitled A Professor and Mrs. Littlefield. What a combination Max and El make! Don't limit your expectations to those that happily inhabit a cozy mystery either! Diane has included a very unexpected element of duplicity – duplicity born of desperation from a heart that has waded into the murky depths of depravity and greed and becomes unable to turn around!
But I am getting ahead of myself! The mystery seems to be rather straightforward – the protection of a WWII figurehead being tantamount. Then the layer of business acumen and the desire to preserve a floundering business. This layer is followed by a mysterious illness and possible murder…and the layers continue to deepen. There comes a point where you can't help but believe dear 'ole El has waded into the investigative waters too deeply!
And she almost does. Well, she comes perilously close to losing her life at least a couple of time before you reach the final page!! All I can say is that El's influence on Max – the professor extraordinaire - is astounding to say the least! And that's just the icing on the cake! You will really be satisfied by Diane's story! You will come to care a lot for her very eclectic but lovable characters, and you will be left wanting more! What a great combination, right?! I highly recommend this novel to everyone!
About the Author:
Award-winning novelist Diane Noble spent most of her first eighteen years in a small mountain village in the High Sierra back country near Yosemite National Park. Growing up among towering pines and rushing waterfalls provided Diane a rich setting in which to let her vivid imagination soar. Her first novel was published in 1994 under the pseudonym Amanda MacLean with four more following in quick succession. She began writing under her own name in 1998, with the publication of one of her most popular works of historical fiction, THE VEIL. THE SISTER WIFE, book one of her new Brides of Gabriel series, is now in bookstores everywhere. Keep in touch with Diane at www.dianenoble.com, http://www.facebook.com/dianenoblebooks, and http://twitter.com/dianenoble.