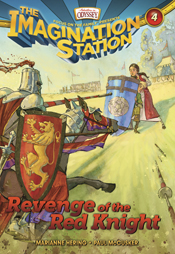 About the Book: (from the publisher)

In this Imagination Station adventure, Patrick and Beth find themselves as guests in a beautiful castle in 15th-century England. Through a series of events, the steward of Lord Darkthorn's castle finds the cousins with three artifacts collected in their previous adventures: the stone, the cup, and the golden tablet. They are accused of being thieves and locked in jail. Beth escapes and discovers the identity of the real thief, leading to a jousting contest with a surprising outcome. Set during the War of the Roses in England,
Revenge of the Red Knight
will teach readers about the Crusades, the integrity of knights and the vows they took, and why men would choose to risk their lives to fight for Christianity.
My Thoughts:

Revenge of the Red Knight is the 4th adventure in The Imagination Station series, and it is packed with lots of excitement and danger! Young readers will be anxious to learn who has been stealing the treasures from history and how the knight has appeared in the Imagination Station. The ending of this book is both a thrill and a surprise, and just like Patrick tells Beth about their adventures: "…I think we're going to have a few more."
I do too, Patrick! Because thing have definitely been left in a precarious state! Mr. Whitaker has no way, as of yet, to get the Imagination Station to work for him, so he will have to depend on his young time travelers to sort this out I'm sure!
Focus on the Family will have parents searching for the next books in this series for sure! Write quickly Marianne and Paul! Write quickly!!