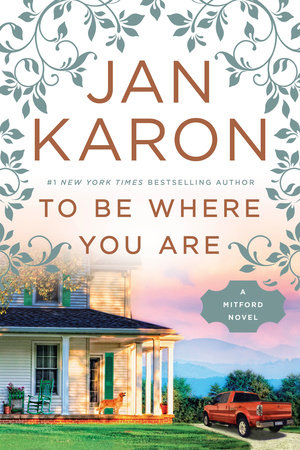 About the Book:
After twelve years of wrestling with the conflicts of retirement, Father Tim Kavanagh realizes he doesn't need a steady job to prove himself. Then he's given one. As for what it proves, heaven only knows.
Millions of Karon fans will be thrilled that it's life as usual in the wildly popular Mitford series: A beloved town character lands a front-page obituary, but who was it, exactly, who died? And what about the former mayor, born the year Lindbergh landed in Paris, who's still running for office? All this, of course, is but a feather on the wind compared to Muse editor J.C. Hogan's desperate attempts to find a cure for his marital woes. Will it be high-def TV or his pork chop marinade?
In fiction, as in real life, there are no guarantees.
Twenty minutes from Mitford at Meadowgate Farm, newlyweds Dooley and Lace Kavanagh face a crisis that devastates their bank account and impacts their family vet practice.
But there is still a lot to celebrate, as their adopted son, Jack, looks forward to the most important day of his life—with great cooking, country music, and lots of people who love him. Happily, it will also be a day when the terrible wound in Dooley's biological family begins to heal because of a game—let's just call it a miracle—that breaks all the rules.
In To Be Where You Are, Jan Karon weaves together the richly comic and compelling lives of two Kavanagh families, and a cast of characters that readers around the world now love like kin.
My Thoughts:
I have read every word of every Mitford book Jan Karon has ever written, and I must say
To Be Where You Are
carries my heart to new and spiritually challenging places - all the while being comforted by the presence of fictional friends who seem as real to me sometimes as my friends walking through life with me in flesh and blood.
I can barely believe that this dear
author has celebrated her eight decade and is able to produce another beloved novel filled with all the people I've come to love. She has allowed her characters to age right along with her, and that adds reality and depth to the story. Father Tim and Cynthia, Louella, Avis, JC....they're all here and they all face unique challenges in this novel.
I won't share spoilers, but you will laugh and you will cry as you read about life in Mitford. Honestly, I selfishly hope Jan Karon writes more novels still!! She certainly left folks in positions to share some significant life experiences with all of us! I know in my heart that this precious lady will do whatever the Lord asks her to do, so I will wait and see what happens next!
I will always be reading and rereading the Mitford novels...always. These characters provide inspiration in so many ways as they live their lives with transparent grace! Bless you Jan Karon! Bless you!!
About the Author:
Jan Karon
is the author of the bestselling series of nine Mitford novels featuring Father Timothy Kavanagh, an Episcopal priest, and the fictional village of Mitford. Set in the foothills of the Blue Ridge Mountains, Karon's Mitford books include At Home in Mitford; A Light in the Window; These High, Green Hills; Out to Canaan; A New Song; A Common Life: The Wedding Story; In This Mountain; Shepherd's Abiding; and Light from Heaven. The Father Tim Novels include "Home to Holly Springs" and last fall's release of "In the Company of Others," set in County Sligo, Ireland. There are over 40 million Mitford and Father Tim novels, childrens books, and CDs in print.