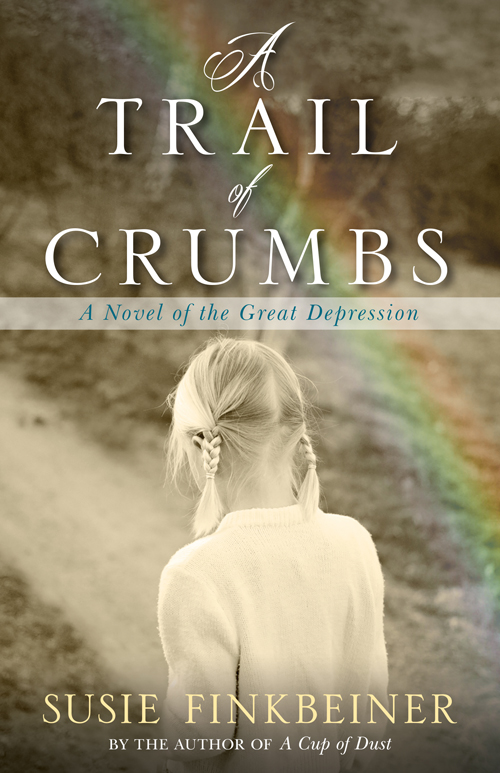 About the Book:
"
I believed it would have been a sin to stay inside when God had sent us such fine weather. According to Pastor Ezra Anderson, sin was the reason we'd got in the dusty mess we were in. The way I saw it, that day was God's way of letting us know He wasn't mad at us anymore. Just maybe He'd seen fit to forgive us
."
Pearl Spence has been through more in her young life than most folks could handle. But through it all, her family has been by her side. They may not be perfect, but they love her and they all love each other, come what may. That's one thing Pearl no longer questions.
But the end of her beautiful day signals the beginning of the end of her secure life.
Now her family is fleeing their Oklahoma wasteland. Pearl isn't sure she'll ever see home or happiness again. Are there any crumbs powerful enough to guide her back to the dependable life she once knew?
The strong narrative voice of Finkbeiner's young protagonist from A Cup of Dust returns in this gritty yet hopeful sequel, sure to please her many fans.
My Thoughts:
"Some storms rage so loud that it's hard to hear the sweet song of hope. But it's always there." (p. 256)
I'm so thankful that Pearl has her Aunt Carrie in her life to speak hope into each circumstance she must face in her in her eleven years on this earth. The dust bowl in Oklahoma punched a hole into Pearl's family, and her own body bears the internal scars from her encounter with nature.
When Peal's family leaves Oklahoma for Michigan, it appears there is no choice if they are to survive intact. A new home, a new job for he dad and family nearby seems to be the foundation this small family needs to rebuild from the storms they faced in Oklahoma. No one could begin to imagine the internal wars that were raging in the hearts of some members of the family. It wouldn't be long before they faced a very different, but more violent, storm that only their hearts would face.
This is a very well-written, beautifully raw story, told from Pearl's very young girl point of view. Her innocence and youthful naivety makes the reality of her situation all the more powerful! When Aunt Carrie's character is introduced into the story, it doesn't take the reader long to understand that she offers the strength and hope that Pearl can't seem to find in her nuclear family.
Pearl has already faced the ripping of the family's fabric before she ever leaves Oklahoma. Her neighbor, Ray, is a constant reminder that family isn't always related by blood, and his friendship remains a constant source of stability. I think Pearl is constantly wrestling with her own heart and mind to make sense of the rapid sequence of change that has crashed against her family. The author does a magnificent job of developing Pearl into an ageless source of truth and wonder that all readers will be dawn to.
This is a heart wrenching book to read at times, but it is a very satisfying, thought-provoking novel. I look forward to what lies ahead in Pearl's future!
About the Author:
Susie Finkbeiner is a stay-at-home mom, speaker, and author from West Michigan. Her previous books include
Paint Chips
(2013) and
My Mother's Chamomile
(2014). She has served as fiction editor and regular contributor to the Burnside Writers Guild and
Unbound
magazine. Finkbeiner is an avid blogger (see www.susiefinkbeiner.com), is on the planning committee of the Breathe Christian Writers Conference, and has presented or led groups of other writers at several conferences.