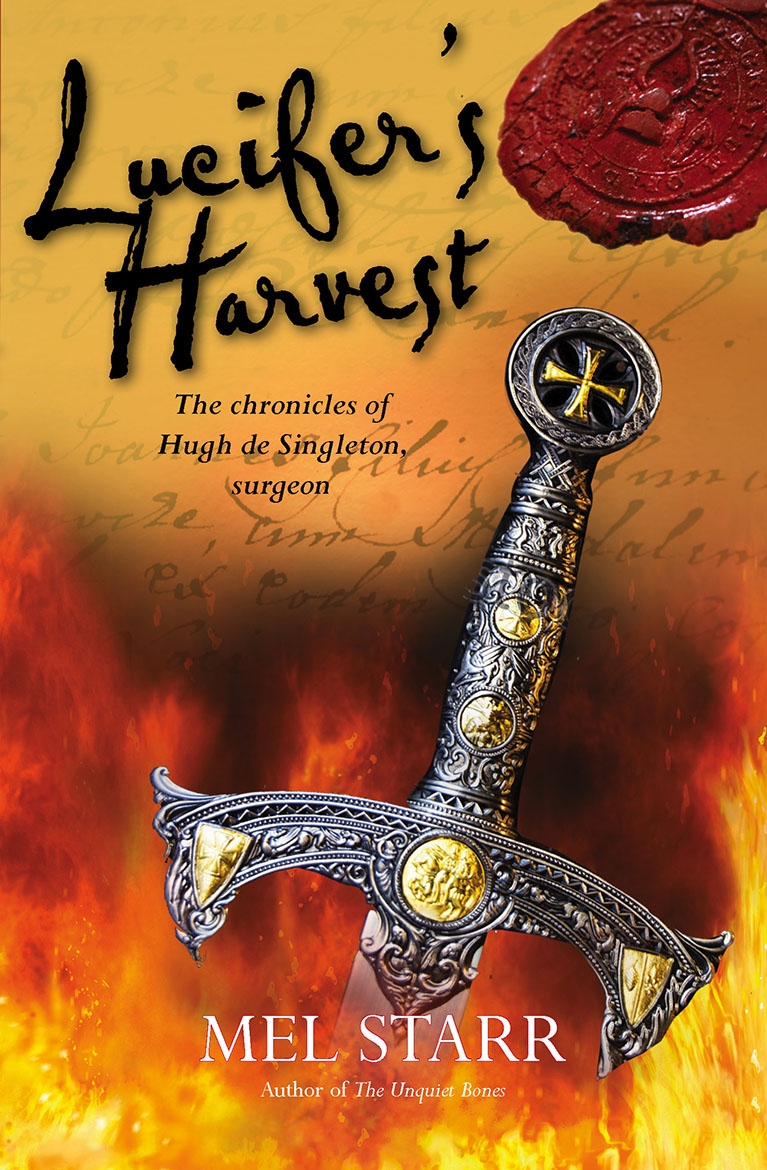 About the Book:
King Charles of France has announced that he is confiscating Aquitaine, and Prince Edward has sent for knights and
men-at-arms from England to assist him in opposing the French king. Lord Gilbert Talbot is required to provide five knights, twelve squires, and twenty archers and men-at-arms, and he wishes his surgeon--Hugh de Singleton--to travel with the party, leaving Hugh's wife Kate to oversee the castle in their absence.
It won't be an easy journey. Among the party will be Sir Simon Trillowe, Kate's former suitor, who had once set fire to Hugh's house. After a brawl on the streets of Oxford, Sir Simon had nearly lost an ear; Hugh had sewn it back on, but when it healed crooked, Simon blamed Hugh for the disfigurement.
Finding himself in the company of his old nemesis, Hugh resolves not to turn his back on the knight--but it is Sir Simon who should not have turned his back.
My Thoughts:
"Proving a man guilty of a felony is difficult enough. Proving innocence can be even more onerous." (p. 56)
Hugh de Singleton surely has his work cut out for him in Mel Starr's latest medieval mystery! I have been a huge fan of Starr's work and his created surgeon's work since I read the genesis of this series! The ONLY thing I could even begin to find fault with at this point is the length of Lucifer's Harvest - a mere 160 pages! My venerable surgeon gets in quite the quagmire in this brief tale, so maybe the shorter length preserves his life for more adventures – at least I hope so!
I never cease to be amazed at the ancient science that provides all that is needed for Master Singleton to discover the answers he so desperately needs to find in this story. He is in a totally foreign place when he is all but forced to solve a murder. Believe you me, a LOT is riding on the answers he must find! You will be alarmed at how quickly this end of this novella approaches!
If you love a well-told murder mystery – medieval style – you will adore this entire series just as I do! Once again, I HIGHLY recommend Mel Starr's novels!
About the Author:
Mel Starr was born and grew up in Kalamazoo, Michigan. After graduating with a MA in history from Western Michigan University in 1970, he taught history in Michigan public schools for thirty-nine years--thirty-five of those in Portage, MI, where he chaired the social studies department of Portage Northern High School. Mel retired in 2003. He and his wife, Susan, have two daughters and seven grandchildren.