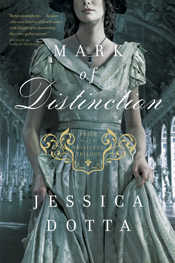 About the Book:
London is said to be the glittering jewel of society, a world unto itself—but to Julia Elliston it is a city of shadows. Her life is swiftly dissolving into scandal. And in Victorian society, even a whisper of scandal—substantiated or not—can be the death of a young woman's reputation.
Now under the watchful eye of Lord Roy Pierson, one of most influential men in England, Julia begrudgingly accepts his protection. But Chance Macy's power is far-reaching as well, and he is eager to assert his claim over her.
Thrust into society as the Emerald Heiress, Julia is the toast of London, a celebrated curiosity. But in reality she's trapped between the clutches of two powerful men. Aided only by a gentleman whose intentions she prays she can trust, Julia must finally take control of her own fate—but outwitting one's foe rarely goes according to plan
My Thoughts:
"It dawned on me once, as I stopped dancing and stood still amidst a swirling ballroom, that maybe they hadn't forgotten – maybe they'd never known." (p. 259)
Julia realized a profound truth in this moment.
"He knew I wouldn't be able to resist this Bible." (p. 234)
Just prior to this, Julia realized an even greater truth.
The combined effect of these two truths in Julia's life changes everything – for all time!
I say all of this to tell you that Mark of Distinction takes the reader deep within the world of intrigue, deception, and the tyrannical patriarchal structure of Victorian England. If you thought the first installment of this superb trilogy was special….this second installment will steal your breath away time and time again!
Honestly, my heart remained broken most of this novel. Julia's plight was so incredibly painful to watch. Along the way, I fell in love with Isaac. I understand why Julia couldn't but still…the man is a saint! The rest of this crowd needs to be disciplined severely!! Lady Beatrice is positively evil no matter that her life circumstances have made her a bitter person. I imagine that when Julia beheld this woman, she was able to see evidence of her worst fears. I shuddered every time she appeared upon the page.
In short, every character is powerful in a unique way. The entire cast of characters is brilliantly interwoven, and the secrets they keep are deadly in the worst sort of way. You will NEVER see the end of the coming!! You will be amazed beyond amazement!! Enter upon the journey today. The Price of Privilege Trilogy is exquisite!!
About the Author:
Jessica Dotta has always been fascinated by England during the Regency and Victorian era. Her passion for British Literature fueled her desire to write in a style that blends the humor of Jane Austen and the dark drama of a Bronte sister. She lives in the Nashville area with her family and works as a freelance media consultant and publicist.